J. Basanaviciaus Street 1 / 13, Vilnius, Lithuania
Tradigital Art
by
P Gurgel-Segrillo
at
In Black & White Group Exhibition, 2020 Art Gallery
Opening on Culture Night: 21st September 2012, 11am - 10pm
This Culture Night
2020 Art Gallery
pays homage to the golden age of film making
with a tribute to the use of black and white stock. Join us on the evening for an exhibition
of artwork in monochrome from a selection of our gallery artists.
The exhibition will continue till October 6th & includes new works by : Brian Barry,
Julie Beckett, Gill Bickerstaff, Alan Corbett, Laura Cull,
Patricia Gurgel Segrillo
,
Joe Healy, Tony O Connor, Lily Reilly, Brigid Shelley & Stefan Syrowatka.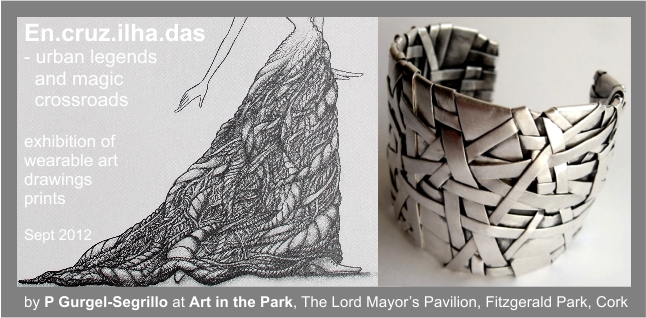 En.cruz.ilha.das - urban legends and magic crossroads Exhibition of wearable art,
drawings and prints
The interlaced silver and gold ribbon
Patricia Gurgel-Segrillo
uses to create her
wearable art series hint of the social fabric of Rio de Janeiro State, where Patricia grew up.
A place where strands of wealth and poverty, ethics and violence,
culture and corruption are constantly intertwining.
Upon moving to Cork City she has been creating a group of drawings,
deepening her exploration on cross-cultural identity, empowerment and femininity
- subjects which are a constant in her work.
The drawings series has been influenced by the afro-Brazilian
orixas
.
These are
deities
or
divinities
, which are such a great part of Brazilian culture.
Patricia's representations portray them as ancient (or maybe futuristic?)
heroes and sages, inhabitants of the urban landscapes, full of magic as well
as power and a profound sense of self-worth, of dignity.
At
Art in the Park
, The Lord Mayor's Pavilion,
Fitzgerald Park, Cork City. September 6th - 30th
September 21st -
Culture Night
event:
Meet the Artist with P Gurgel-Segrillo
4pm - 7pm.